A few weeks ago, when Gorillas became the first European startup to achieve a $1 billion valuation in nine months, one of my clients asked: "How big of a bubble are we in?"
I've since heard similar concerns expressed across the investor spectrum, and the results are starting to come through. Last year, the global corporate venture capital (CVC) industry shrank in terms of total investors and deals performed. Within fintech, disclosed CVC-backed deals fell 21%: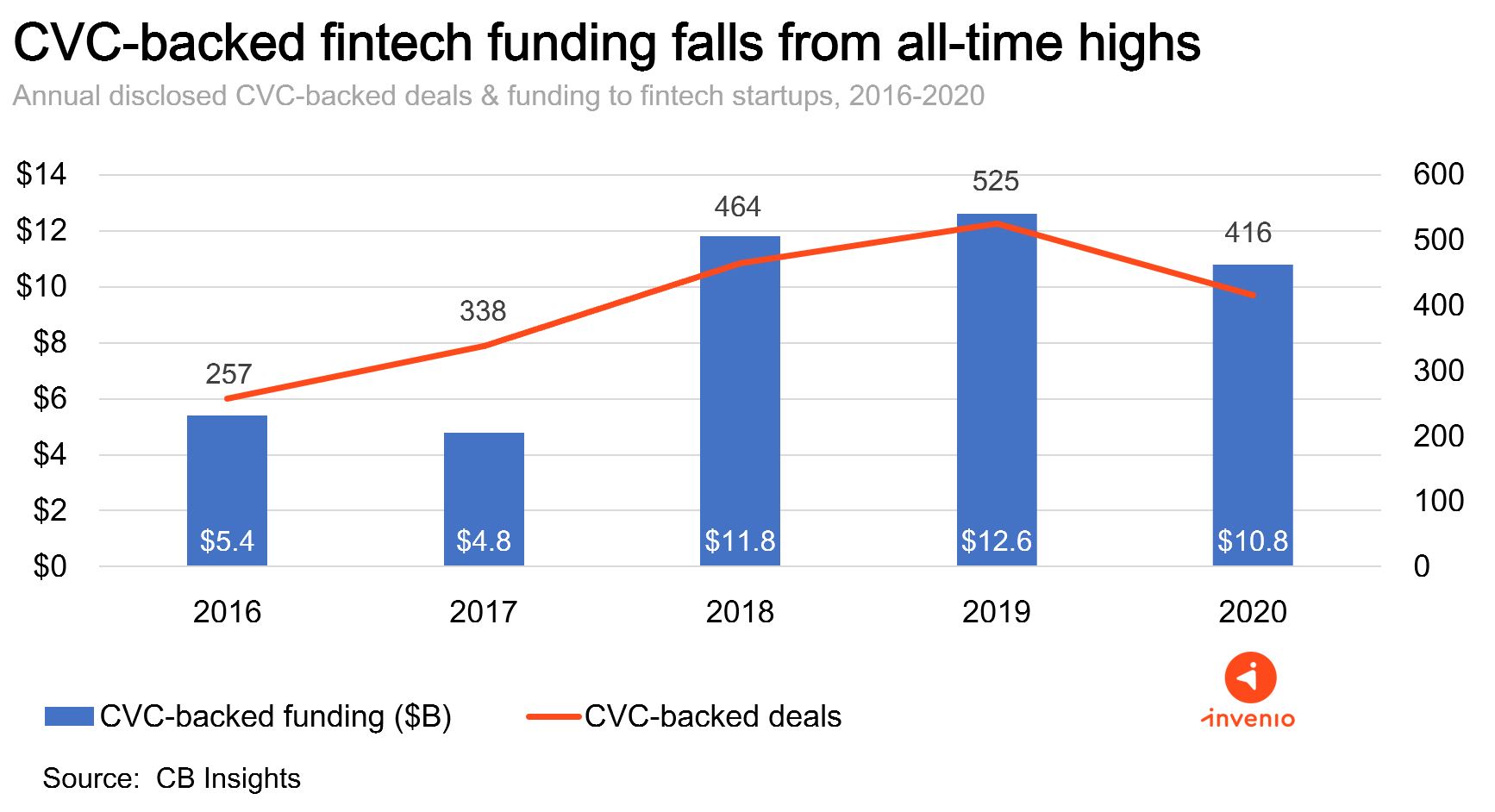 Is this retreat the start of an ensuring down cycle? Circling several other telltale indicators, Ray Dalio, founder of the world's biggest hedge fund, concluded that some of today's emerging tech stocks are "in extreme bubbles."
A bearish lens like this can make it easy to see any disappointing tech performance as yet another sign that we're reliving the Roaring 20s, a post-pandemic era defined by unsustainable beliefs about the future.
But when we take a step back and focus just on the plausibility of building billion dollar businesses in a few months, we realize that this sort of warp-speed growth isn't new and suspicious.
If anything, it's the new normal.
Seven years ago, Jet.com reached a billion dollar valuation four months after its founding (Jet was acquired by Walmart a few years later for $3.3 billion). In Europe, Skype became a billion dollar company 29-months after it was founded in 2003 (Skype was then sold to Microsoft for $8.5 billion in 2011).
No doubt, some growth stocks are overvalued by exuberant investors. This was perhaps more true back in 2015, the year that a number of commentators, including Mark Cuban, predicted that the 2015 tech bubble would be "worse than the tech bubble of 2000."
These skeptics were certainly right about Lending Club, the startup that went public in 2014 at a value greater than all but 13 U.S. Banks…only to lose 90% of its value on public markets.
They were also right about Rong360 (now Jianpu Technology), the Chinese fintech that raced to a $1 billion valuation in 2015 before losing more than 95% of its value on the public markets.
But investors who thought the entire startup ecosystem was overvalued in 2015 were wrong. While tech stocks did experience minor turbulence, 2015 more importantly marked the coming of age of the venture economy.
Particularly in Europe, 2015 was a breakout year. Not only was it the first time that European startups received more than $10 billion in venture investment, it was also the first year that the continent created 10+ unicorns in 12 months. Since then, the European venture economy has only continued to expand.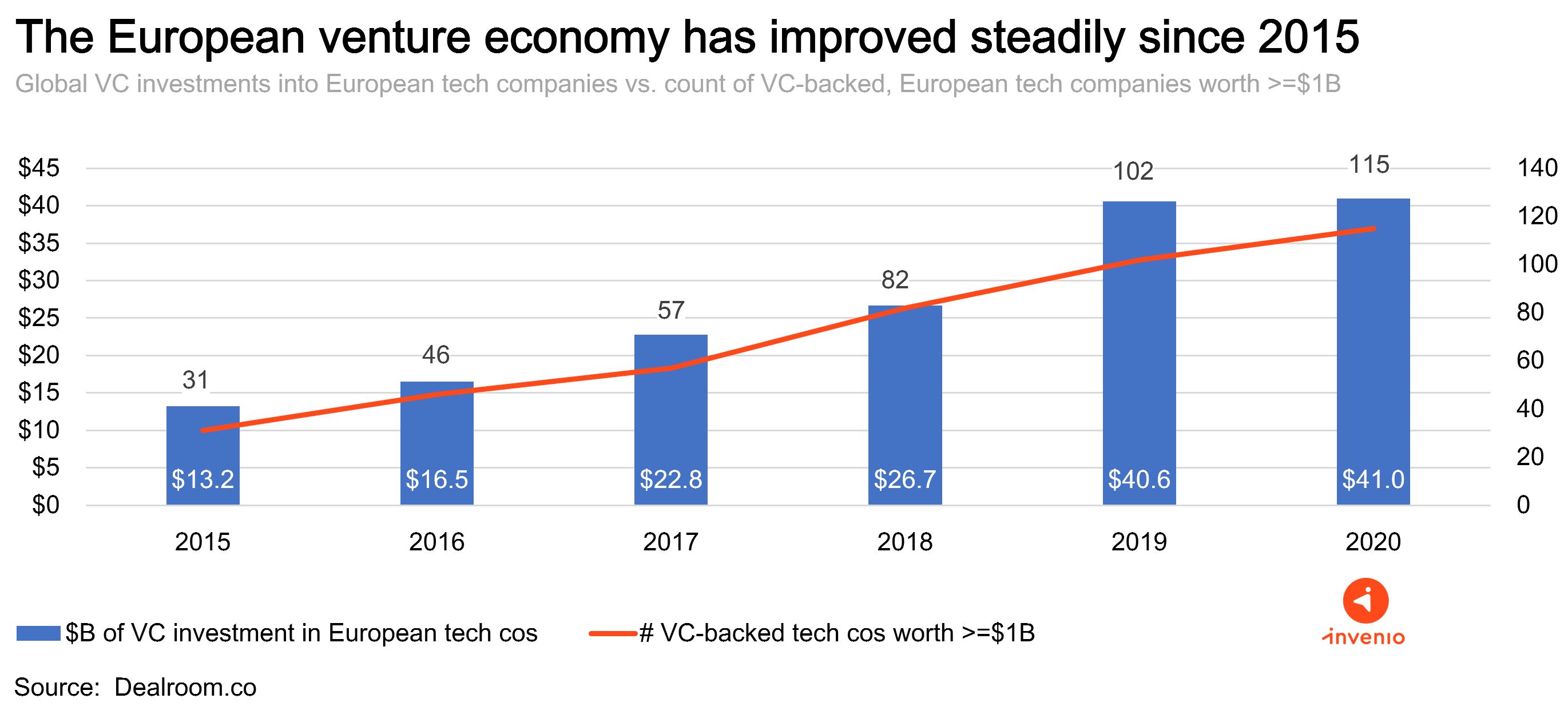 The goal here isn't to chastise wrong predictions, but rather to point out the paradigm shift that is now fully in place. In the 18 years since Skype's founding, warp-speed business creation has transformed from a freak occurrence to the new normal. As of March 2021, there were at least 620 private companies valued at $1 billion or more.
More poignant still: today's median unicorn is just two years old, founded in March 2019.
A more rigorous analysis of the investors behind these startups reaches a similar conclusion: the venture economy has created more winners than any other investment strategy over the last fifteen years. Researchers from Cambridge Associates studied 4,181 asset management firms across 11 different strategies before concluding that VC was the best performing asset class between 2005 and 2019, both from a median and a top-performer standpoint: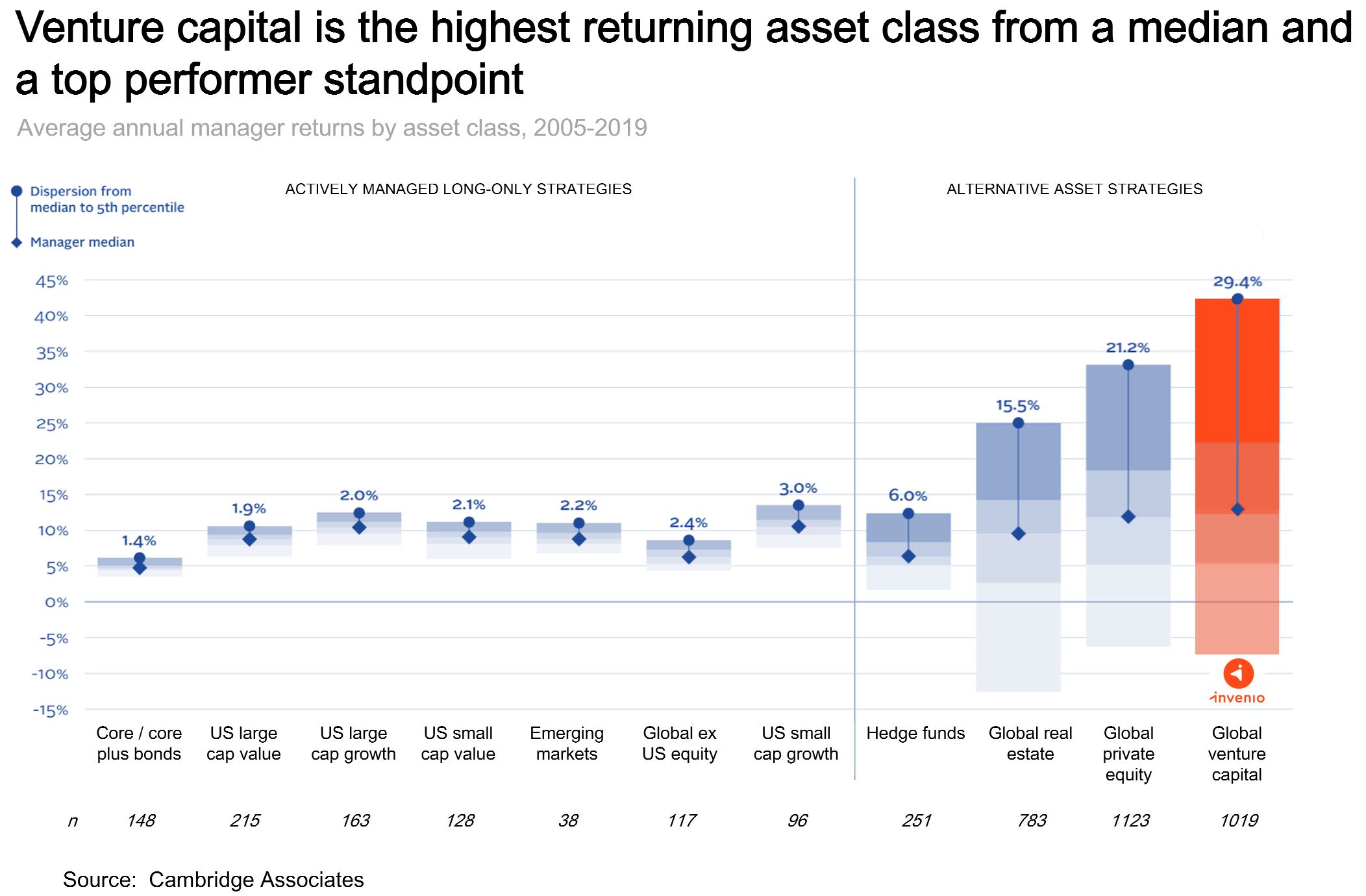 While we need to be sympathetic to concerns around the risks related to venture, we must also underscore the upside that remains. In particular, we believe that the same four trends which powered the venture economy through the last two decades will continue to create more hyper growth businesses here in Europe for the foreseeable future:
Venture investing will continue to grow its share of total R&D spending
Since the late 1990s, the share of R&D spending directed to venture capital investments has increased substantially, both in Europe and in the US. Among other reasons, this can be attributed to landmark research from Gompers and Lerner (1998), which demonstrated that venture capital is a significantly more efficient way to fund product development than traditional R&D.
Compared to the US, European venture investing is still in its early days. We expect European VC investors to continue growing their share of total R&D spend for the foreseeable future.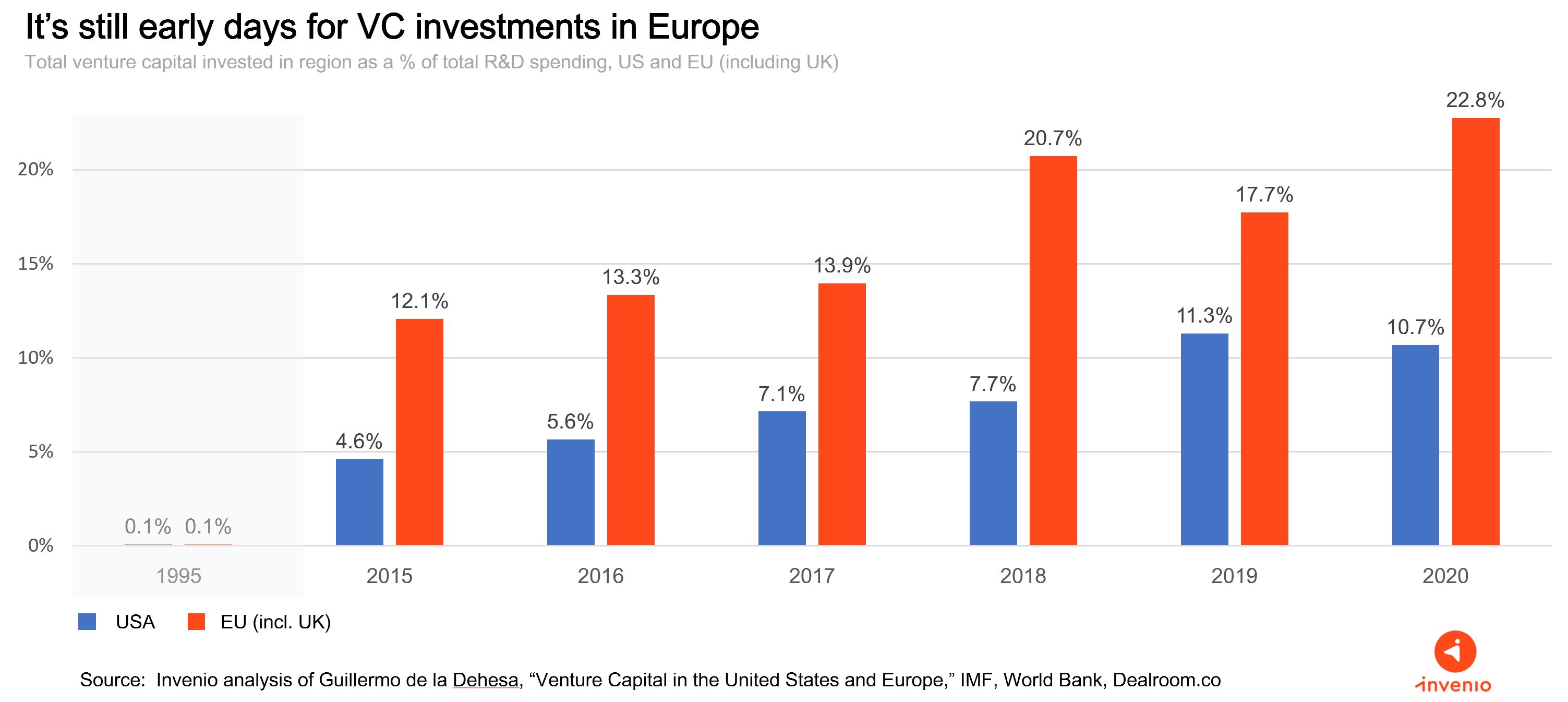 Regulators will give startups more incentives to build
One reason why the European venture economy lags the US is due to the continent's suboptimal stock option and equity grant tax laws. Thankfully, new legislation is likely on the way.
A few weeks ago, the EU Start-up Nations Standard called on countries to change their laws on stock options and immigration visas so that start-ups can attract the best talent from anywhere in the world.
This joins other promising efforts like Index Capital's Not Optional Campaign, whose goal is to make Europe the "most entrepreneurial continent" by improving stock option rules. As new legislation makes it easier for European tech companies to incent their founding teams, we expect to see even more growth businesses form.
More venture capital is making it easier for startups to win the distribution war
Venture capital has always tried to give upstarts an edge in the war between incumbent distribution and startup innovation. Last year, despite the pandemic, European start-ups set a new record by attracting $41 billion in VC funding. Investor support, which often coincides with media attention and expedited corporate partnerships, is making it easier for startups to build credibility and reach new customers. If fundraising is any indicator, this investment trend is primed to continue. According to Preqin, there were more VC firms raising capital last year than ever before.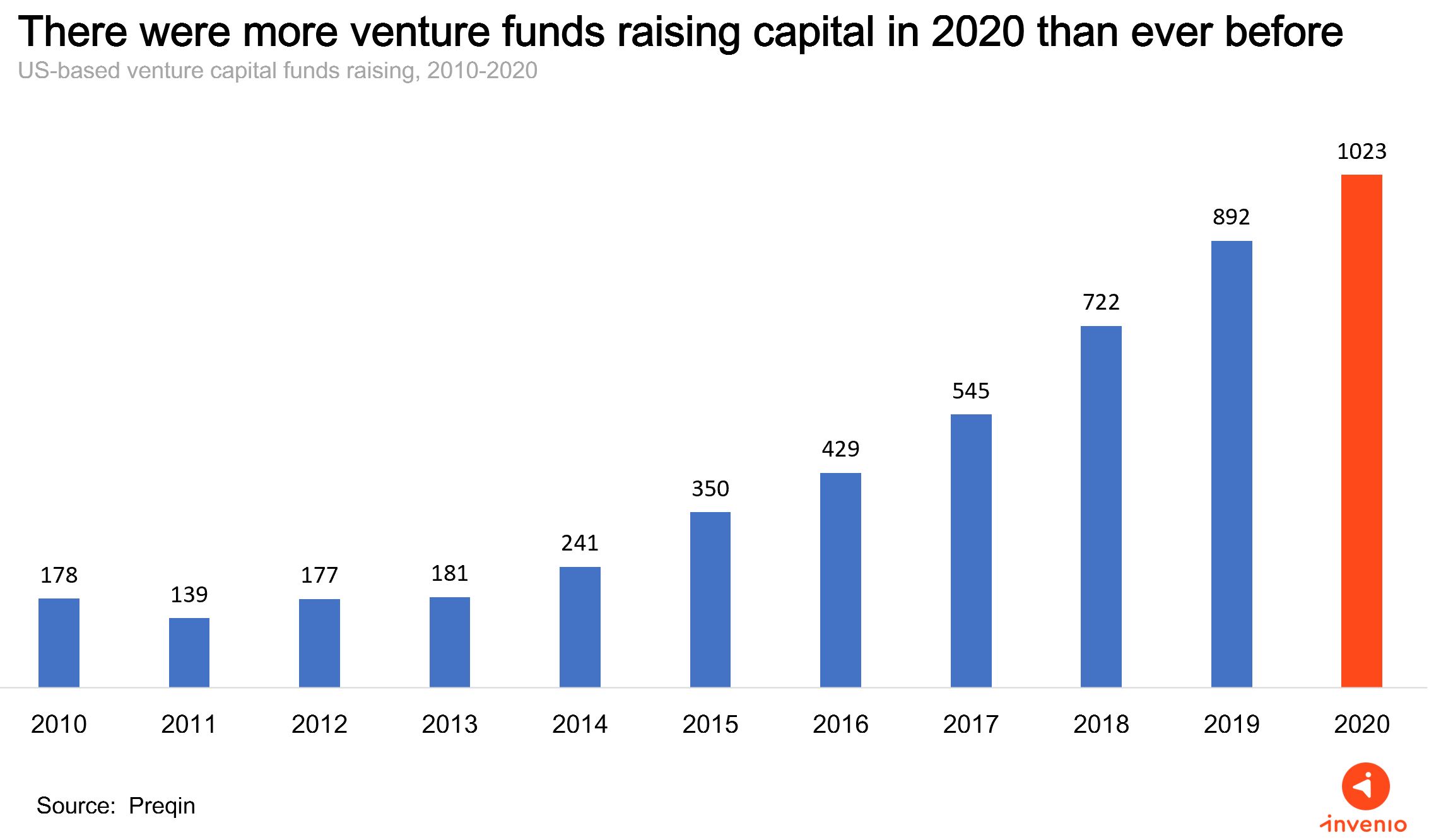 More companies are creating tools that power the flywheel of startup growth.
Tomorrow's businesses will have increased access to affordable tools with day-one scale potential. When AWS launched in 2007, it led to the creation of Dropbox, the file storage unicorn. InVision, a design software unicorn, uses Dropbox to deliver its product to Shopify, which in turn provides a suite of tools to millions of other entrepreneurs. This flywheel will continue to create more cost-efficient hypergrowth.
Conclusion
Hypergrowth companies are natural byproducts of the venture economy, and will become increasingly normalized as the venture economy matures. Even if venture investing falls from its position as the world's best performing asset class and research strategy, it will remain an important tool that corporations use to derisk innovation.
Back in 2019, my partner Jay and I founded Invenio Growth to help companies harness the power of this venture economy. We saw that a new type of professional was needed to advise the failure-prone complexity of outlier-driven growth, so we established a firm with double-stranded DNA: one side adapted to the world of risk-sensitive corporate executives and the other adapted to the world of the risk-seeking startup and its venture investors.
By further bridging the gap between innovation and distribution, we've been able to do things like build a $610 million payments company in six months.
If you'd like to explore venture economy strategies with us, get in touch.